What's New? ~ May 2013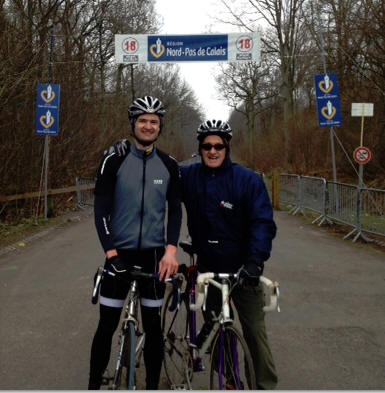 Cycling with your kids?
It doesn't matter how old you, or your children are, there's no greater thrill for either person than cycling with your mum, dad or child. We have a few parent/child combo's in the Grupetto, and it's really fantastic to see, and is what our glorious sport is all about.
Not sure who's the most chuffed in this flamme rougers shot, Andrew Derrick or his dad, Ivan? Not only are they riding their bikes together, they're at one of the most iconic places of any sport; the gateway to hell, the Tranche d'Arenberg. Riding it themselves, the day before the Paris Roubaix gladiators come screaming through on Sunday.
You can't play footy with your dad at Wembley, but you can ride the roads of legend with him. Does it get any better? Probably not...
added 16/5/2013
---
Back Pain?
Are you a sufferer from back pain, and lets face it, most of us are at one point or another. Local rider Kate Motely has had real big issues that kept her off the bike for over a year. br />
She's been helped immensely and is now back on the road. She's so impressed she's brininging the lady who helped her over to Jersey to run a free Somatic's workshop on 1st & 2nd June. Here's the website,
www.alignsomatics.com
; more details (location and times) to follow.
added 16/5/2013
---
Celebrating Everything Italian...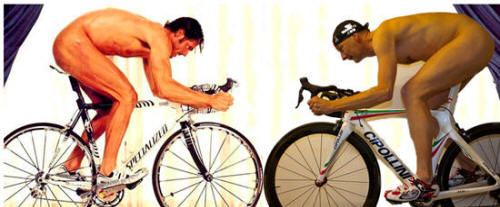 With the Giro just around the corner, Mario Cipolini and myself (that's Mario on the left) got together for a quick "Pose Like a Pro" photo shoot. The young lady, who now owns the Cipolini, has a new saddle fitted. So all is well. No cyclists were harmed in the making of this photo...
---
VO2max Development
To complement our hugely successful Self Coach Manual and FTP Development Programme, we're now ready to launch our 8 week VO2max Development Programme.
Another "cast-iron guaranteed performance increase" for less than the price of some decent bar tape! Proven, personalized and re-usable.
We don't sell coaching, we sell results, buy yours here...
End to End Challenge
The last weekend in May saw a team of 20 RBSI cyclists from Jersey, Guernsey and Gibraltar take on the mighty John O'Groats to Lands End, non-stop in teams of four.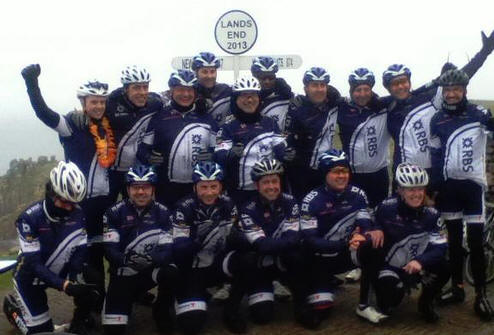 They trained hard all through winter, in rain, snow and hail, and in three days reaped the rewards of all their efforts by riding through exactly the same! If you'd like to support them, visit here...
SRM2Strava
Have an SRM but not a Garmin? Use Strava on your smartphone? If you have any SRM/Strava combo but can't get the two together, now you can with Philippe Ayala's new website SRM2Strava. Genius!
Giro D'Italia...
It's here! The toughest race in the world's most beautiful place. Our whole sport summed up in three minutes. Suffering on a scale football and other sports can only dream of. Still makes the hair stand up on my neck every time I watch it...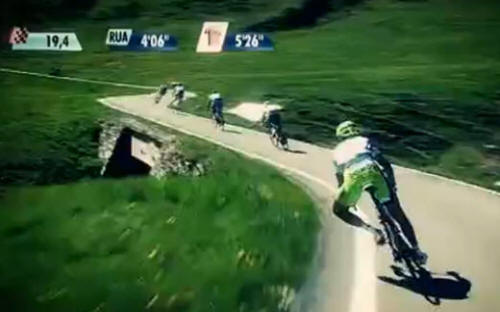 I know it's the 2012, but it's way better than the 2013 one!
Local Circuits
Finally, for local riders we have three new training circuits to consider, which are all a variation on a Central Island theme, based in and around St Peter's Valley. Use them as part of your commute home or to supplement a larger training ride. Hours of fun, climbing hills, battling the wind and chasing Strava Segments. Choose from
Elite
,
Pro
or
Champ
flavours.
added 26/4/2013
---
Last Month's What's New?
Breathing For Winners
We are not normal. We all know that; we all feel it and we all see it when we pass the normal people sitting in their normal cars.
Cyclists are special. We take part in, as
Puncheur
Morgan's t-shirts say, "
The world's toughest sport
". So why do we breath like normal people?
Make a step change to your riding, training and racing. It's here, it's free and it can transform your riding forever. What have you got to lose...?


---
Another fantastic and eventful weekend for flamme rougers around the world...
Paul Lowe took a hugely well deserved, top spot in the Giro di Sarajevo; that's him powering away from the opposition on the left. While (on the right) our man in Brazil Thiago Fernandes suffered, well you can clearly see what he suffered! That's got to hurt? Get well soon Thiago.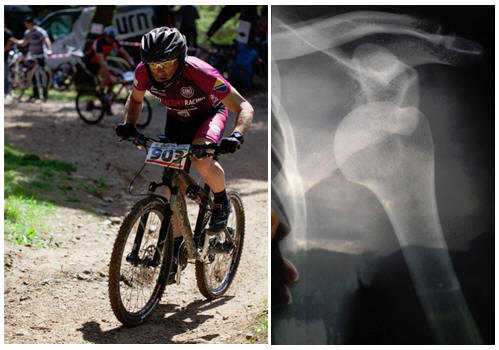 Meanwhile in America's Queen of the Classics the Tour of the Battenkill, Eric Diamond took a fantastic fourth, after hitting the last corner a little hot! A great result for a climber in a sprinters showdown!

And we've had TT PB's flying in from all over and it's still only April. Well done to all and a great payback for all your winter efforts!
As you can see, suffering has it's rewards.
added 18/4/2013
---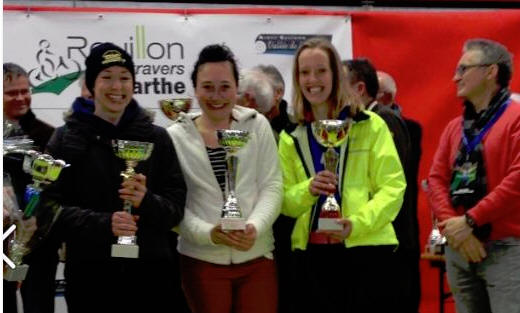 A clean sweep for femme rougers at Rouillon Travers Sarthe!
A just reward for all their hard winter efforts.
All smiles now, just don't mention the 60 second Killers!
---
Competition Tapering, Messages & Gear Choices
You've trained through the worst winter for fifty years, are building up to your early season peaks, and now need to be sharp on your big day. So how do you rest, recover and keep at peak fitness all at the same time? Here's a
few pointers to help you
...
In the interim, good luck to the riders we're working with in the upcoming
Tour of The Battenkill
and
Tour Ta Malta
, bizarrely, four in each event, and al the other big, early season objectives around the world.
An upcoming factsheet will cover gear choices and the myriad of options we now have available to us. For the cognoscenti (I'm such a wordsmith!) in these matters, here is the absolute best tool I've ever seen for shining a huge beacon on this darkest of black arts.
Absolute genius...
And just because you're on a cruise holiday in the Aegean Sea, doesn't mean you have to miss out on your training! If you're going to "suffer well" what better place to do it! Mr Paul Lowe, redefining the phrase dedicated athlete!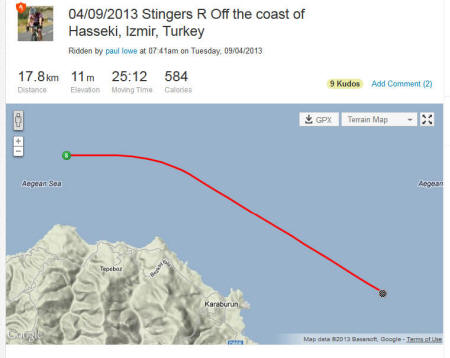 added 11/4/2013
---
Easter Prizes
A great Easter weekend for
flamme
rougers
around the world, with eleven race wins and seven podiums, on three continents. It was a fitting reward for all the hard work put in over the worst global winter I can ever remember. So nice that something positive came out of it.
The girls above (l-r,
Louise Shaw, Meryl Le Feuvre & Evelien Harrison
) took a clean sweep of the ladies classes at Le Mans in France, on a freezing day in sleet and snow, real hard-core.
In a slightly warmer California,
Mark King
took 1st place in the Copperopolis RR, the West Cost equivalent of Paris Roubaix, and came away with not only a "classic win" but a fluffy Easter Bunny to rival the Tour de France's cuddly lion...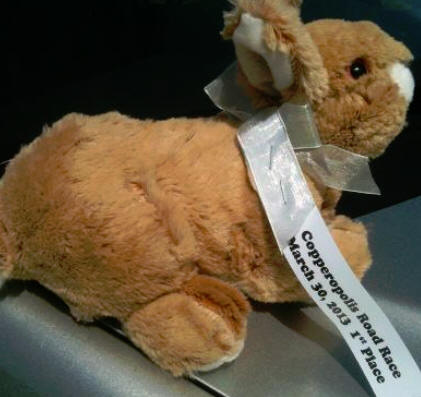 added 03/4/2013
---
It's Not Just You
Ever get the feeling, especially this winter, that you just can't be bothered, I know I have. Well even the pro's get it; even world champions! How do they deal with it?
flamme
rouger
Dave Young at
Pod Films
gets a world champion to tell you how in just 60 seconds...
Tour of Wessex 2013 from Pod Films on Vimeo.
added 03/4/2013
---
VAMOS! Summer Tour

I know we're still in winter and it's early, but we all need something to motivate us. But if you're going to do this one you need to get fit! Not only do you get 3 days in Granada, you'll get the chance to climb Europe's highest road at 3398 metres. Yes, you read that right. Here's the details...
added 3/4/2013
---
Bike Breaks May Camp

If a weekend of sun, sea and sand are more your type of cycling, then try the
Girona Bike Breaks Training Camp
with Lotto Belisol's top lady, Marijn De Vries. Get some early season sun on your back over the weekend of May 10th. Limited to just six riders if you're thinking of it, don't leave it too late...
added 13/3/2013
---
For Sale
Hand built
Mavic Open Pro wheels
...
---