After, what has now become known as the "Debacle of the D'Auvergne" it was time to take a look at a few issues I've long been aware of that now needed attention.
So it's get shut of a couple of kilos of overabundance and a visit to a chiropractor to get myself re-aligned; more on that later. Then it's off the treatment table and back on the road.
We arrived at Malestroit, for the Coeur de Bretagne, a month after the Walkowiak. After a ten day layoff to get my glass back sorted, training began in earnest with a mixture of SH1TS, 60 Second Killers and our Gunsite Grupetto rides, with the odd Classic Circuit thrown in for good measure.
Race of Champions
Signing on was once again a formality and as organised as you can get. In fact the whole event was one of the best, and nicest, I've taken part in. That might be attributed to the fact that I was a player in this event rather than the played but it was a great day out nonetheless.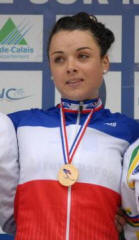 The start seemed to be running a little behind time as it was 8:35am and we were still waiting for the 130k "big" ride to set off.
Then a bike appeared sprinting up towards the line with a young lady on it. She hopped off, the commentator had a l-o-n-g chat with her, then she took her top off. Easy at the back!
She removed her jacket to reveal her French National Champion's Jersey, won the week before! Rightly so, everyone applauded young Audrey Cordon. Remember the name, you'll be seeing a lot of her in the coming years.
It was at this point that I realised if she'd flagged the big race off, she wouldn't be doing that, or the little one that Dianne was doing. Okay, our race it is then. She took her place in the front row, we waited ten minutes for the big group to get up the road and off we set.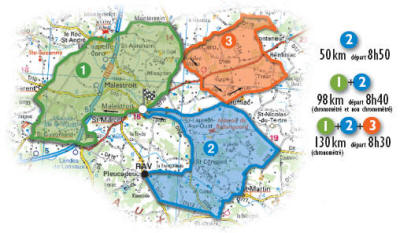 The first 5k or so were neutralised as we all climbed through and around the street furniture to get out of the town. As usual, rather quickly I find myself right at the front, tucked in behind the lead motorbikes and riding next to Audrey; she looked so young and fragile!
We rode side by side and as the moto's pulled away the speed slowly built up to a "fast" tempo, with all the big boys coming out to play. I tucked in behind her and realised that was useless. She must of weighed around 50 kilos. I went looking for a porker...
Taxi for Williams!
Somehow I managed to stay with the leaders, sitting about 10 to 15 back, right up to the first big climb. At the top the elastic snaps and I find myself in no-mans-land with a rider in black kit. We chase for a kilometre or so but dangle thirty metres off the back of the line-out in front of us. It looks like there's no way of getting back on.
Then one of his team mates starts coming back for him. As I move off from my turn, he comes through and I give him an almighty push in the backside to get him to his mate. I know I won't hang on to the leaders but he just might. Sometimes, I can be a nice person; or just slack.
Behind me there is no one. Time to gel up, drink up and wait up for the posse to arrive. A minute or so later it seems we have a quorum of seven riders that are ready to go. The chase begins.
I've decided that as this isn't a Trophee Passion event (the French championship I'm riding this year), I'll do whatever it takes to get a good workout. So I go to the front and start to drag us around. Some come through, some don't. It matters not.
One rider is very vociferous, shouting "Allez!, Allez!" every thirty seconds. He's doing my head in but I decide, for once, to keep my mouth shut and concentrate on the riding.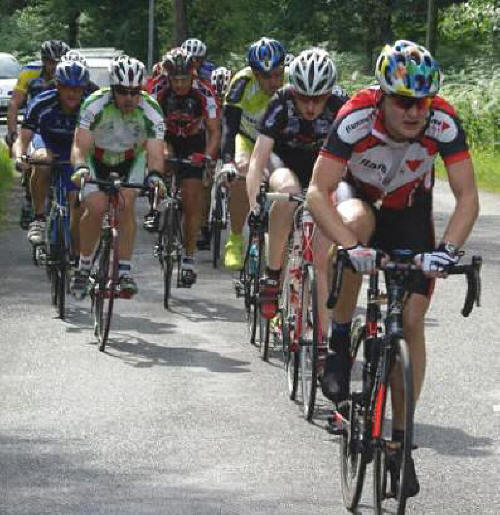 I'll précis the next two hours. We chased, and chased and chased, then chased some more. Our group picked up and dropped off riders all through the undulating roads of Brittany.
We kept getting glimpses of a group ahead of us but couldn't quite make the junction. Three times we got within a hundred metres of them but couldn't make the catch. Everyone seemed to back off as we got within spitting distance. Rule number one Frenchie; they ain't caught until they're caught! Think on...
Then, with two k to go the gap physically shrank before our very eyes. A few around me eased off hoping for a sprint; have they learnt nothing in the last two hours?
Myself, the young lad behind me, and the man mountain in green in third place all took up the challenge and as we passed the 1k to go board we jumped on to the back of them. As they sat up I pushed on right to the front and lined it out. It's not as impressive as it sounds.
As I got there I spotted on the front, leading out his mate, our man in the black kit. We chased them for 57 kilometres and there's no way I was going to let them take the sprint. Seems I'm not so nice after all.
With 400 to go I swung off and our man mountain came through. It was too early to sprint but he was going so strongly I jumped on his wheel before anyone else could. Job done, part one.
With 200 to go he eased off ever so slightly and they began to come around us. Just as my backside came off the saddle he kicked again. I pulled out in to a block headwind and dived back in again.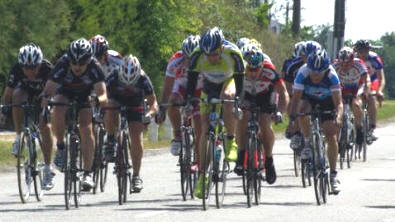 Our men in black are far left, I'm just right of centre.
It's 200 metres to go and it's all about to kick off.
Lurch jumps again, I go with him and we come over the line with a gap that the electronic timing thought was big enough to give us a one second advantage on everyone else. Job done part two.
The Stats
An 875 watt sprint, 57.4 kph, having ridden 98k in 2:43 for a not too shabby average speed of 36.2 kph. I was 52nd overall, they don't do category classifications for some reason, but had the most fantastic day. I put the previous race down as an aberration.
Dianne had a brilliant ride in the 50k event but somehow managed to get sent on an 8k detour after she finished! She was still smiling at the end though...
The presentation and post race feed was a bright affair, with plenty of food and drink. The event is sponsored by the Artisan Butchers of Brittany. The prizes were shall we say, eclectic, enigmatic and very un-English! Salami sausage anyone?
Afterwards we met up with Kerry Donavan and his wife Jan. We stumbled across Kerry's blog after the Gomez race and then found out he was doing the Bretagne. The rest, as they say, is history. Read all about my new friend's exploits and how to mix it with the French right here...
Next Stop, the Trophee Passion Round Four, the Anton Magne. See you there.