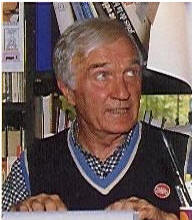 Pierre Chany (16 December 1922 - 18 June 1996) was a French cycling journalist. He covered the Tour de France 49 times and was for a long time the main cycling writer for the daily newspaper, L'Équipe.
Chany was born in Langeac, Haute-Loire, the son of a near-illiterate father who worked in the horse industry. The family then moved to Paris, to run a small bar in the rue Guillaume Bertrand, in the 11th arrondissement.
Chany grew up there and, in his teens, escaped from the city on his bicycle, sometimes riding as far as Melun.
He became interested in cycle-racing after reading L'Auto, Paris-Soir and Match and looking at sepia pictures of riders such as André Leducq. He rode several races, including the Premier Pas Dunlop event which in other years showed the talent of young riders such as Louison Bobet and Raphaël Géminiani.
In Chanaleilles, he won a cycle and a running race on the same day, winning two packets of Gauloises cigarettes. After that he joined the CV des Marchés club in Paris. He raced for five years and then, in 1942 when he was 20, went into hiding rather than be sent to Germany as a worker.
He was arrested and jailed first at Puy-en-Velay and then Riom. He escaped - on his birthday - from a train taking him to Germany. He joined a branch of the Resistance, the Francs-Tireurs et Partisans, then joined an Algerian regiment. He was wounded three times and awarded the Croix de Guerre.