It's the first weekend in April which means two things. It's time for the Tour of Flanders in Belgium and La Coulainaise in France. The cycling season is now well and truly underway. Bring it on!
After last year's edition when we had ten riders, most undertaking their first ever sportive, this time we'd dropped to three, with a support team of three wives and one junior member. We made it a family affair, which is what cycling should really be all about.
Due to injury (Mrs flamme rouge was still one clavicle short of a working skeleton), impending births (x2), clash of dates, the opening of a cycle/coffee shop, and for Andy Perree, being invited to the Caribbean by work(!), our numbers had dwindled slightly.
We consoled ourselves with the quality of our entry, rather than the quantity. So on the day we had Andy Boxall, Mick Heald and myself ready to take on the worst the French could throw at us. With a new route from last year, less climbs but more climbing and true spring classic weather, throw things they did. It was to be day of character building for us all.
Only in France
You've got to love the French. In this world of political correctness and "Health and Safety" it's great to see the French holding out and starting the race with a good old fashioned revolver! Vive la difference!
Somehow, I managed to find myself on row two for the start. Dianne and myself have been coming here for the last four years to start our "road" season (after we've been to Belgium for the cobbled classics of course) but last year saw a new venue for the start and route. The start was, shall we say, somewhat exciting. It was only to be enjoyed by the brave or foolhardy.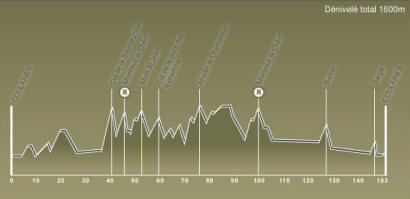 This year, incorporating lessons learnt from 2009, the start was tweaked to prevent the Charge of the Light Brigade madness that saw around a 1000 lemmings all funnelling through the small town roads on the outskirts of Le Mans. A solution had to be found, and it was. It was now women, children and really old boys first, followed two minutes later by the vets, then followed two minutes after that by the young speedy pups.
Me now being 50, (and some would say an old woman) placed me in start category une. I was near the front and charged like a coiled spring. When the gun went off, so did I. Within 500 metres I'm on the front driving the line, tucked up behind the motorbike marshal. With no race aspirations it was "go 'till you blow" and try to stay away for as long as possible. And we did. Stay away and blow.

Made it. Just!
We managed to get to the 40k mark and the foot of the Col de la Source before we were caught. I'd worked hard and even managed to clear one of the previous climbs in the lead but I knew it wouldn't last. The marauding masses of the vets were gathering behind and they could smell the fear of our small group.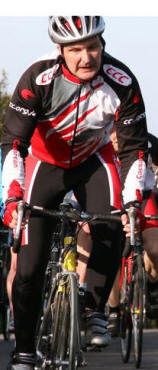 Just as we reached the foot slopes of the biggie, where I was breathing through my exhaust, Mr Heald (vet) and his group caught us for his two minutes. We passed pleasantries as he glided around me heading upwards. It was very cold, very dark and very threatening. "Any minute now" we said...
About a minute later, the heavens opened and hail stones the size of big hail stones rained down upon us forming a crackly, icy crust on the road. It wasn't pretty.
This was just the break I'd been waiting for. I was getting tailed off big time on the climb and was only able to watch Mick heading in to the distance between gasps of breath. I was expecting Mr Boxall to join us anytime soon but it seems his day was to be even longer than mine.
Anyway, back to the climb, or rather the descent. It's now a full gas trip to the bottom of the climb with the roads covered in a carpet of hail. Nice! I made great time and got back on to the big group that had now collected in to a slow moving ensemble just as we reached the split for the two routes; left for the big ride and right for the 50k run to home.
It was still very cold, very wet, very dark and liable to get very worse. But I'd already missed one event this year so there was no thought (okay perhaps a little one) of taking the "soft" option. I needed to prove my old woman doubters wrong. The 150k route, and left turn, it is.

Slippy Slidey
As we turned sharp left to head off on the extra 50k loop around northern Le Mans, we were faced with a wall of franticly waving gendarmes, marshals and de-velo-ed riders. The road was literally an inch (2.5 cms in foreign money) deep in crunchy, frozen, glacier-like hail. It was higher than the depth of the wheel rims and fell in the course of a few minutes.
People were toppling over in slow motion everywhere and there were around forty riders trying to walk on the glistening, crackly white road trying to steady themselves by holding on to their bikes as a crutch.
Most were falling after s l o w l y bringing their bikes to a halt then trying to unclip. The frozen ice in their cleats wouldn't let their feet out of the pedal and they either yanked it out, unsettling their bike and toppling over, or literally losing balance through going so slow and being unable to get their feet from their bindings. It was chaos.

I pedalled on, passed around fifty riders, stayed upright through the at least a full kilometre of ice carpet and joined Mick and his battling group, just as we exited the whiteness to get back to black, but wet, roads.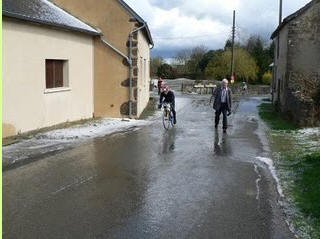 It settled for a while with everyone riding tempo to pass the kilometres and just trying to keep warm. Then someone had a rush of blood and attacked at the foot of the Mont St Jean. Here we go I thought, just as Mick rode off in lone hot pursuit of our quisling. Everyone else looked at everyone else. Then it started. Which for me is where it ended.
Take Two
The huge group split in to two and Mick was in, and driving, the front group. My team mate was in the front pack, so I played the selfless humble domestique and blocked for him as best I could! Okay, I was dropped good and proper. It was now a case of survival with my own group as we headed in to lumpy country.
Mick was having his own battles up front. At the end he said even though he was dead on his feet, he fought to hang on as he was too scared to get dropped and have to ride alone to the finish. How ironic that proved to be!
As we entered the heart of the middle section of the ride the very strong wind became almost gale force. And a difficult day was about to become even more challenging. The last thing you wanted to be was on your own.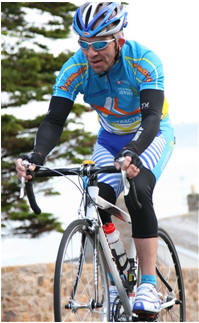 At one point, as we headed towards the Moulin de Charbonnet, we rode in to a pitch black cloud and it got very, very, very dark. It was mid afternoon and cars had their headlights on.
We all expected a drenching and were discussing such when an enormous bolt of lightning cracked across the sky with a simultaneous and equally enormous clap of thunder.
Then it rained as though it was the last ever rain storm in the world. Or at least it felt like it. To add insult to a slap in the face, it got windier. What a day.
Andy (above) was having his own problems. He'd punctured and the repair wasn't going well. With freezing hands and a howling gale it took a lot, lot longer than it should of done.
As he stood at the side of the road, rider after rider passed him by. Which, considering he started at the back in the senior, speedy, young pup group, wasn't a good sign.
Back to me!
I got drenched, as did the other boys, I got wind-blown, as did the other boys and I got dropped. Which makes me the moral loser. I lost the wheel of the group as we entered the feed station at the top of the climb at the Montreuil le Cherif. The elastic snapped and despite sprinting twice to get back on, I got tailed from the group with 50k to go, in to a gale force head wind.
Mick was valiantly hanging on at the front and Andy was fighting to get to the finish having spent far too long fighting with a recalcitrant crevasion. I spent an hour and a half on my own giving it full gas to ride at 30 kph in to an Artic head wind. I felt soooo sorry for myself but managed to keep smiling...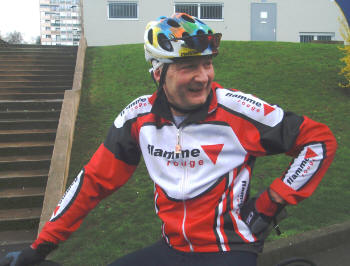 Once again, my nemesis (ex-Credit Agricole and Francaise de Jeux pro) Eric Lebachler powered to the line to take the honours in an unbelievable 4:22. Mick cleared the line in a fantastic 5:02 to be 74th Vet. I rode for 50k without seeing a single soul until I got to the finishing straight to finish in 5:29 and was 75th Super Vet. In 2009 I did it in 4:44, which gives an indication of how hard the day was.
Andy came in around the six hour mark after the timing equipment was brought down. A long, hard day and scant reward for the excellent training he's put in over the winter. Still, he's got the Hubert Arbes to look forward to in July. Should be warmer then.
It was just one of those days that was harder than it should have been but gives you loads of great stories for the rest of the year. We were so cold and wet that we didn't even go back to the presentation and food fest afterwards.
It was changed, back to the hotel and seeing as it was now gone 6pm a quick shower and out for a meal with the girls that had stood in the cold waiting for us to return. At least we could keep warm by pedalling harder. A big thank you to them for supporting us,
Not a day you look back on with fondness but one of those days you'll never forget. We should do it more often!