As usual, we start our season in glorious Flanders. It really is the place to be in the spring. The historical cities, the classic courses, the cobbled climbs, the weather and unbelievably friendly people who's hospitality is second to none.
If you ever get the opportunity to ride one of these events in Belgium, don't think twice about it. It really is quite sad that a grown man of fifty plus still gets as excited as an eight year old on Christmas morning when it comes to riding his bike. The pain, the suffering, the unbelievable speed, the hideous roads; it really doesn't get any better.
Form a Queue
Flanders is a country steeped in cycling tradition. Despite all the technology available to them, the Belgians still do things the traditional way. There's a fantastic website with all the information you could ever need for the eleven events in the Bank van den Post Cyclo Tour which also has online entry. Yet on the morning of the event there were still a couple of thousand riders queuing to sign on!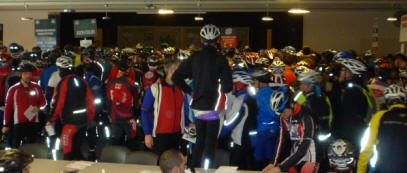 Me, I'd previously paid my 10 Euro's on line, walked up to the empty desk, handed in my email confirmation and left with my number (7021)and carnet. It took longer to take the photo above than it did to get my number. But those that were queuing and paying, were in and out within ten minutes anyway; it's that efficient.
To Flanders and beyond...
As you can see from the profile, flat it ain't...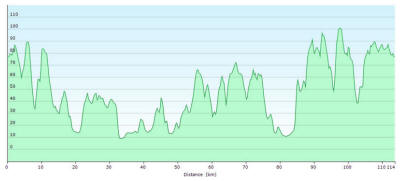 We leave the Sports Centre at Zottegem, heading for Brakel. Three kilometres in and we're on our first cobbles, quickly followed by a level crossing then the reassuring thud-thud, as we ride the concrete slabs that are the road surface of choice in Flanders. Three k and we've already savoured everything that's great about Flandrian cycling; I'm grinning like a Cheshire Cat!
It's an "a la Francaise" start (leave when you want) and I'm riding with a comfortably fast group. We're riding a good tempo as we hit the first (categorised) climb, the Rekelberg, at the 10k mark. They keep tempo, I crack on; I'd like to call it an attack but it was more a gathering of momentum. Whatever it was, the result's the same, I'm off the front and as luck would have it there was an official photographer to capture the moment!
After a couple of kilometres of chasing I pick up a rider that's been shelled out of the huge group a couple of hundred meters up the road. We work together (see last month's factsheet) and at the 15k mark, we're back in the "peloton".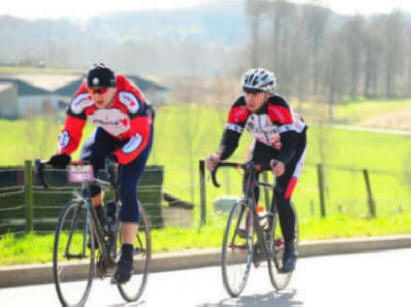 As soon as we get in to the pack, the pace picks up as we single file and wind our way around the farm tracks and windmills of Zwalm, Gavere and Zingem. This is Three Days De Panne country and every village has a classic climb. At one point we run past the foot of the incredible Molenberg, my favourite climb of all time. I feel like jumping out and having a go, but I was too worried of losing the wheel, so I fought the urge and carried on.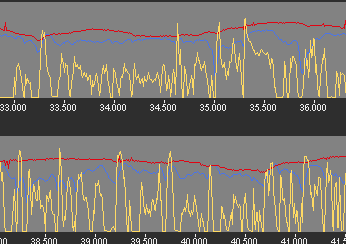 Here's a snapshot of my power file from the 33k mark when we came off one of the many, many climbs up to the 42 k mark. The yellow line traces power, and you can see the constant push, freewheel, push as we dive in and out of corner after corner as we traverse the back roads of Zottegem and beyond. Blue is speed, red is heart, which is bouncing around 185 and 195 bpm...
After an hour of riding 60 second Killers (clients will know how hard that is!) and riding very, very fast; the speed picked up! On the long false flats and uncategorised climbs I'm hanging on and waiting for the elastic to snap. I look down at my heart rate and see something beginning with a two, not good.
Knowing I won't be able to sustain this pace for the next three hours, I decide to ease up when we get to the top of the climb and ride with the next group that comes along. The elastic stretches, stretches and stretches, then all of a sudden rebounds. Everyone sits up as we hit the first feed at Lozere!
A Very Flemmish Affair
These events are more like social pain-fests. When you're on the road it's full-gas, show no mercy and it's every man (and woman) for themselves. When there's a feed, it's like one big party. Everyone stops, gets their carnet stamped, fuels up on the unbelievable offerings (I scoffed down much more in value than I paid in entry fee) and waits for their mates while chatting with whoever's next to them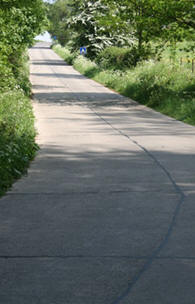 So I took a honey waffle, half a banana, an energy gel, filled my bottle and looked for another fast train leaving the station. It wasn't long before we're heading at warp factor stupid, to Nokere. The Nokere Koerse race had been held on the Wednesday and everyone was obviously still in race mode. Surprisingly, I'm feeling rather perky as we head the 40k to the Roman Brewery at Mater.
The Holstraat and Kleiberg follow in close order, then it's off to Oudenaarde and the 800m, 6%, concrete slabbed climb of the Braambrugstratt. Doesn't sound much but with a 14% sting in it, you can be sure it grabs your attention as you near the top!
The top of the climb takes you towards Mater with its long, long, long stretch of cobbles laid out before you. And don't think you can hop on a pavement either; where there is a pavement, that's cobbled too. This isn't our crowd, it's from last year's Tour of Flanders.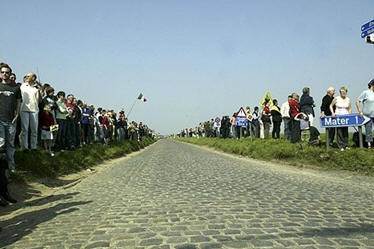 I snicked up the gears, got to the centre of the road and gunned it as hard as I could. I'll never tire of the noise a bike makes when it's smashing over cobbles. There is no gliding, it's mayhem; and with a couple of hundred riders around you it's mayhem on a grand scale, all wrapped up in a cacophony blanket. For this ride I took one of my older Colnago's. the E1, with "loads of spokes" wheels and 25 mm tyres. It handles superbly and coped admirably.
I've been here many times in the last eight years and know it as well as any road back home. I also know that as soon as we get to the end of this cobbled monstrosity, we turn left and it's 200 metres to the Roman Brewery and the second feed. I'm still smiling.
More Tea Vicar...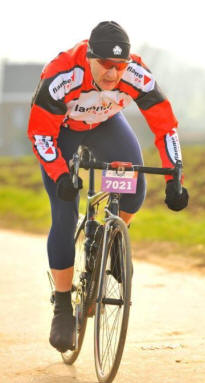 It's a quick punch of the carnet, a photo for the boys back home (they're coming to do a cobbled classic next year and wanted to see where the beer was made!) and it's back on the road in quick order to head for the finish.
I filled a final bottle with water and decided to give the Ename blonde beer a miss. When we did the Eroica they were handing brandy out at the feed, here its beer. Old Johnny Foreigner really knows how to do cycle races!
We leave for Horebeke in the beautiful sunshine and head to the last two (categorised) climbs of the day; the 500 metre, 8%, Armekleie, with an 11% lip for the last 100 metres; and the stupidly steep Vossenhol which is another Tour of Flanders favourite.
Once again, I find my climbing legs and ride away from the group on the slower, steeper climbs. It's the shallow, fast ones I'm struggling with and once again there's a photographer to capture the moment. How good is that?
Route One Home
As we leave the last climb I pick up riders from the other distances and start to work with like minded others to form a group of our own. Around ten of us seem to settle in to our own little rhythm and everyone seems happy. So we crack on, working through and off or forming echelons as the wind direction dictated.
With around ten k to go, that was me done. I'd noticed that fewer riders were coming through so I did a long pull on the front then peeled off to take a look at the damage. There's only three of us left!
Switch to Survival Mode
There's a huge Belgian bloke, mid forties in full on Belgian race kit; his mate, mid-thirties, head to foot Lotto kit; and me in a sartorial melange of red race jacket, (my Flamme Rouge van Hooydonks only cover the knee, so it's) my blue winter weight Exte Ondo's, and black gloves. As it's Belgium there's no need for a helmet.
Now our Lotto friend is strong, but he's more knackered than me and sits at the back. I wanted to do a turn but just couldn't get to the front. Our Belgian wearing power house just went to the front and banged it out at 38 kph all the way to the finish for the last ten k.
Never once did he turn round, ask for assistance or flick his elbow. We caught and passed people with alarming regularity; due to the tremendous speed, no one could jump on as we went past. You could see there was a raging headwind by the way people were struggling ahead of us. He never seemed to notice, bless him.
I started seeing double but there was no way I was letting this wheel go. Then, like a shining beacon of hope I saw the flamme rouge hanging above the road from the Shimano Arch. I rode along side my new friend and thanked him for saving my life. A bit melodramatic I grant you but it would of been a long ride home without him. He seemed genuinely surprised and a bit embarrassed, he was just doing what he does best. We shook hands and I patted his back; top man!
His mate had been shouting from the back for the last five k, "are we nearly there yet?" He made me laugh and when we got to the the arch I shouted back, "we're nearly there". He was a happy man at last.
I was going to get a photo with them to celebrate our epic escape, but with 200 metres to go they pulled off and went to their car. Probably never see them ever again, but I'll never forget them. And isn't that what all this cycling lark is meant to be about?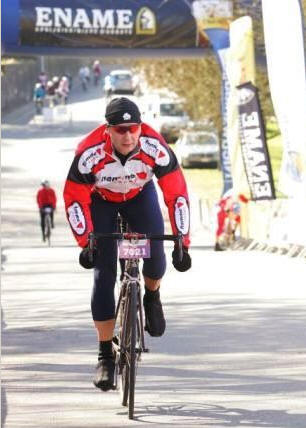 Another fantastic ride and a day to remember. Dianne is still a little nervous about cobbles after her Belgian clavicle snapping incident of last year, so she sat this one out and finished her new book.
Packed the car, savoured the atmos at the finish for a bit, and got back to the hotel just in time to see the last 20k of Milan San Remo. Job done.