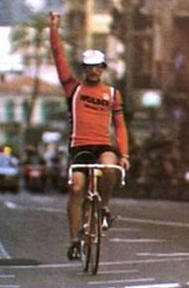 Marc Gomez was the lone winner of the Milan San Remo in 1982. How cool is that? Not a soul in sight.
To prove it was no fluke, he went on to win numerous other races, and a few stages of the Vuelta, including the Gold Jersey. He's also a very nice man who always makes time for people who visit his fantastic shop, VeloLib, just outside Rennes.
Click this logo to visit his shop and website.

The shop front is where the Mont St Michel event used to start in recent years past. But with the event that carries the Gomez name now moving to a Saturday, it's moved in location as well. So it's a short, but increasingly expensive, ferry hop to St Malo and a trip down the road to just south of Rennes.
The delightful town of Chateaugiron sees the hosting of the Gomez event which has the moniker RandoSportive; or as we call them, a race. But it's not a race because you have to pay higher insurance costs for racing. So it's just a very, very, very fast leisure ride. With trophies awarded at the end for those that didn't race the fastest!
What to wear?
Although weather-wise things are to beginning to look up, it's sunny but it's still a tadge cool as we get ready for the race start. So jacket and cut-offs it is.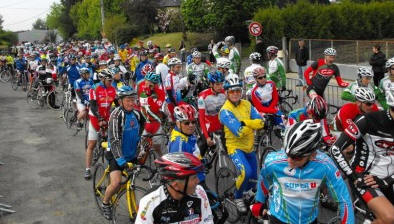 This trip was to see a new rider join the flamme rouge collective as part of his preparation for the Etape. Paul Pirouet came along with sportive regular Andy Perree and as usual Dianne came along with me.
The boys were up for the Super Gomez at 140k, while Dianne in her first race back from her collarbone snapping crash opted for the 50k event to ease herself in. There was also a 100k middle option for those who couldn't decide.
We're Off. Nearly...
This event is a little different to others as it has a long neutralised section to get everyone out of the town and in to the countryside where it all gets a bit speedy.
This was great because it allowed seasoned sportivers Andy and myself to thread ourselves up the pack to be sitting in pole position when it all kicked off. I'm just to the right of the silver moto marshal and Andy is tucked in behind me. Paul, in his first sportive event, hung around a couple of dozen riders back where he was more than comfortably holding his position.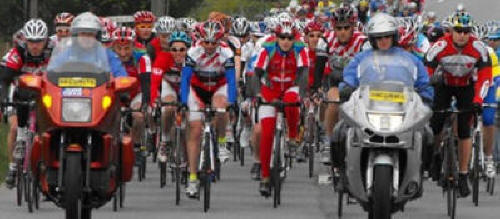 And... Action
As we approached the start proper, the speed began to build as the moto escorts upped the pace in preparation for pulling away. We screamed down a big dual carriageway then took a wide sharp left off the big main road at Etrelles to head up the first major climb of the day.
I was first in to the corner as the moto's disappeared. Someone jumped my wheel and set off up the hill on his own. I'd already built up my speed for the corner and used my momentum to go after him. It was hardly an attack.
Then he looked under his arm, saw me, pulled over and left me on the front. Two hundred metres in and I'm being hung out to dry! I cracked on, knowing full well I was going to blow, and lead for the first 300 metres of the 400 metre long climb. Then it went black; as it did I went back, big style.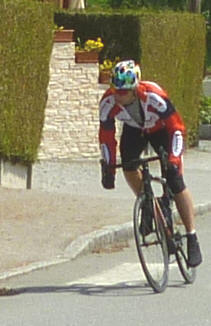 I lost around fifty places in the skirmish and saw Andy go past just as we crested the rise. He wasn't even breathing heavy.
I tucked in on the kilometre long descent, worked my way back to the front(ish) where Andy was. "Did you see my attack?" I shouted. He gave me one of those reassuringly disapproving "mate's looks".
Got the message, move on. And as we did, we took a very sharp right in to a very short, sharp, nasty climb that had everyone scrabbling up the block. It's 2k in and the big boys are really putting on the hurt. I already knew I wasn't long for this world.
Andy, (in my opinion) showing off a bit, went after them. With Paul, unsure of what to do, following him in full-bore pursuit. As the team mentor and senior member I thought it my duty to not be a bridge to the groups ahead and sat up a bit. I think I was a little bit sick as well. You know when you get that funny taste in your mouth?
It wasn't very long before the splits began to appear. As we went over the top, through the rolling countryside and small villages we could see the leading group fragmenting in front of us.
Karma
My school of thought is, "it's better to be the first of the second group, than the last of the first." This is one of the benefits of age, because I know I'm not racing the 20 to 40 something's, and anyone who's 50 and can hang on to them, well fair play but it ain't going to be me. Not today anyway.
Knowing my place in the peleton brings less pressure, although I try to stay near the front as much as possible I know when to call it quits and settle for my peer group. Being youngsters, Paul and Andy have yet to have this epiphany. So I watched them disappear up the road with the big boys.
Welcome Back
Ten k later, our group, who's now got their breath back and are cracking on a bit, see a single figure coming back towards us. It's Paul.
After a valiant effort to stay with the leaders he was drifted off the back by another stinger of an attack on a long false flat. These Frenchies have an insatiable appetite for speed endurance.
For mile after mile they bang it out. Something we can't do in an island that's only nine miles by five! They just wind it up and up and up until everything fragments. They then regroup and start attacking one another. Impressive to watch; for a bit anyway.
Paul was spat out as part of the wind up process. But "my" group, of around 30 of us, picked him up, allowed him to recover, then he started to work. Now he could be a player in our group, rather than the played in the group ahead. The line really is that fine.
However, he appeared to be "playing" a little too hard for some. We had a few "senior" riders with us who didn't like their legs being hurt by this young upstart. They didn't necessarily want to work, but they didn't want their "piano-piano" rhythm being disrupted by speed changes and excess exuberance. But as far as me and Paul were concerned we were here to race, so race we did.
We picked up many stragglers along the way and at one point the group got quite big. We then turned at Ahuille and headed back to Chateaugiron in to what can only be described as a bit of a headwind.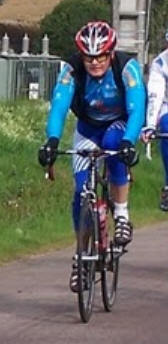 It was at this point, around the half way mark, that we picked up Andy. The incessant speed and attacking early on caused him to have, in his own words, "a bit of a moment."
He went to the back of his group, recovered his composure and rejoined the fray, only for the elastic to finally stretch, snap and rebound around the 80k mark after one too many of those leg sapping, leg snapping, speed endurance climbs.
We picked him up, a solitary figure, crossing the Breton Plain. Paul and myself thought it should be our duty to be on the front when we caught him.
Once more we picked up the pace. Once more the Frenchies complained. Once more, we took no notice.
The Three Musketeers
To be honest, when we caught Andy I think he was glad of the company. He'd been stuck in no man's land battling the headwind on his own for quite a while.
He did a brilliant job of staying away but one man can't fight the collective force and might of a middle-aged sportive peleton in full flow. Yeh, right. A pack of old men, a couple of women and some youngsters who were waiting for the sprint! But we were cracking on a bit; just not on the hills!
Once Andy had gathered his thoughts and realised we were now a collective team in a rabble of Gallic combines, and he'd settled in to the "less hectic but no less competitive rhythm" of our assembalage, he joined in with powering the group along the rolling French countryside.
Our entourage was now around forty or so. But with Andy, Paul and myself all forcing the pace with the assistance of a few strong Frenchies, we began to shed a few out the back as we chased down straglees from the front.
There was one particularly active, vociferous (in a good way), guiding rider who seemed to have the ear of those around him. He wore number one, had world championship bands on his jersey arms and even though he appeared to be in his sixties, was obviously a very classy rider. Not sure of the champs bands, but to be honest in this part of the world you just never know. So I gave him the respect he probably deserved.
The closer we got to the finish, the more we worked, the more they let us work and it seemed fewer and fewer were willing to help. As we entered the last 20k we came in to some progressively lumpier terrain.
Andy and myself were now paying for our earlier efforts and found ourselves going from the front of the group to the back as successive climbs came along. On each flat section we'd fight to get near the front only for the elastic to stretch on the next climb.
With the gaps in between the climbs appearing to get shorter and shorter it was only a matter of time before we succumbed. About 15k to go, it snapped. Well it did for me and I think Andy took pity and bombed out on the next one to wait for me. Super-strong Paul, oblivious to all this, just kept cracking on. In fact I think he was on the front when I went out the back!
All for One... Anybody?
We found ourselves distanced from the main group but cracked on regardless and began picking up others who'd suffered the same fate at the hands (legs?) of Paul and his new friends.
It ended up with five of us "sheddees" on the final run in, one of which was our world champion band wearing compatriot. But with a k to go, and on the final climb, he cracked also. I sat up to wait and Andy sat up, but not as much as me! He crossed the line 30 seconds ahead of me and my mate, a couple of minutes behind Paul and his group.
Madame Flamme Rouge
Dianne, had a tentative first few kilometres in the bunch and neutralised section but soon got back in to the groove. She'd had a few gentle 40k rides in Jersey before we left for France and wasn't quite sure how she'd go when the speed picked up.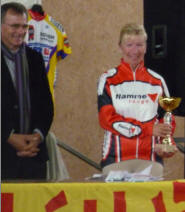 Before we left she'd been for an X-ray. They said the collarbone had almost healed but not quite, So don't ride your bike. Doctors; what do they know?
Anyway, she rode hard, she rode well and she came back with a group of gnarly vets who got her to the end safely and in one piece. In fact she did that well, she came in as first lady in the 50k event. How good is that? I think you can tell by the smile what she thought of it.
Grumpy Old Men
The idea was, race, food, boat, home. Time was off the essence so at the end of the race we planned to get our food and do a runner to make sure we caught the ferry with time to spare.
Then we found out Dianne had won, so we had to wait until she'd been presented with her trophy. Once we had that, we were ready to leave. But she said the organiser told her she had to come back at the end and have her photo taken with all the prize winners. Cue a semi-sulk.
Still we waited, clapped politely for all the winners. If you've ever been to one of these things you'll know that constant 100 mph babble of foreign tongues that comes out of the very loud speakers; but we distinctively heard "Equipe Flamme Rouge" booming across the room.
Everyone was looking at us and clapping, then the reality of the moment hit us. We'd won best team! Best looking, best bikes, best team name, we're not sure and we don't care. We'd all been up the front and we'd all rode aggressively maybe, just maybe, we had the best collective time.
As Dianne was the only one wearing flamme rouge kit (we knew she had to get up on stage for her trophy) we sent her up again on our behalf. But we did get a nice photo afterwards. As you can see, we've all cheered up a bit, sulk over.
And to cap it all, Paul and myself won a t-shirt each in the prize draw. Does life get any better? Can't wait until the Lyon Mont Blanc...