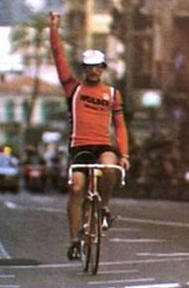 Marc Gomez was the lone winner of the Milan San Remo in 1982. How cool is that? Not a soul in sight.
2011 saw the delightful town of Chateaugiron hosting the fifth edition of the Gomez event which has the moniker Rando Sportive; or as we call them here, a race.
But it's not a race because you have to pay higher insurance costs for racing.
So it's just a very, very, very fast leisure ride. With trophies awarded at the end for those that didn't race the fastest!
What to wear?
This year's event was a little warmer than the 2010 edition so for me it was arm-warmers, that came down once the race got under way, and shorts. A nice spring day to go racing.
Mick Heald had signed up, but his footy team (soccer for our American readers) had made it to the FA Cup final (think super bowl US people) so he had a note from his mum.
Andrew Perree was back for his second crack and Chris Stephens (who missed last year through an impending new arrival, baby Callum) was along for his first; they were both up for the 140k. To keep in the racing rhythm for my Trophee Passion Championship, I opted for the "classic" 100k distance and Dianne, was to defend her 50k title.
Je suis Anglais...
The Gomez starts in the heart of Chateaugiron and has a very long neutralized section to get to the first hill, some 30k away. It's quite a nippy run out, at 35kph; not too fast and not too slow.
Once again we found ourselves hovering near the back at the start of the race, we really should take these things more seriously. With work to do, I think I beat my all time record for getting to the front! Within three kilometres I'm there and as we swung off a roundabout, I'm literally on the back wheel of the moto marshal and tucked in under his seat box. Job done.
The situation remained so for the next 20k. Perfect positioning, sheltered from the wind, warmed up from the engine heat and an armchair ride to the start proper. Alongside me, behind the second bike is a ride who looks rather handy and seems to know what he's doing. A few people half-heartedly try to take "his" position but he's not giving it up. Neither am I.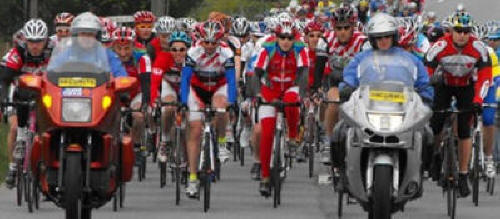 With 10k to go before the "official" start, the shenanigans begin. First off appears an ar$e with tribars, not clip-ons mind, the full aero set up. He comes in under my shoulder and tries to move me off the moto's wheel. I make it very clear in my best franglais that he shouldn't even be in the race with these bars and elbow him away.
He gets all stroppy and acts all hurt at my "apparent" strong arm tactics. He's obviously never been at the front on the last lap of a crit! I send him away with a flea in his ear and he skulks his way backwards. Bloody cheek! What's all that about? I ask my friend behind the other moto. He smiles and gives a Gallic shrug as only the French can.
Two k later and another pretender appears. He's older, looks a bit more "experienced" but gets exactly the same treatment. With a little verbal encouragement, he realises that I'm not giving my position up and he slips in behind me. What a day; and we haven't even started yet!
Two k before the race proper begins and this 90 kilo, huge, man mountain appears. He looks straight ahead and starts moving across, his thigh on my bars. Now this is getting plain stupid.
We're going downhill, around 45-50kph, we're at the head of three hundred riders and he's acting like it's the world championships. Obviously he thinks the lack of eye contact, and his physical size, will phase me. It's time to get jiggy with it.
My head goes under his shoulder, Mark Renshaw stylee, which takes the weight of his bars and moves him away from me. He turns (oh now you're looking!) and gets very agitated in French.
Knowing it's only going to wind him up, but he started it (I really must learn to grow up!), I reply all nonchalant with, "Pardon monsieur, non comprendre, je suis Anglais."
It gets the expected response; he remonstrates, all hands and arms, giving it large in foreign tongues, indicating that he wants the moto's wheel.
I take a deep breath then, in a calm, collected manner reiterate my first sentence, slowly and clearly so he can understand... "Pardon monsieur, j e s u i s A n g l a i s e, F**K OFF! With an added thumb over the left shoulder for emphasis on the off. Conversation over!
Having got the message, he drifted back to discuss the situation with his aero barred compatriot. I could hear them loudly and indignantly comparing notes behind me as the speed picked up for the flag to drop, at the base of the first climb of the day.
And... Action
Just like last year I was first on to the hill and decided to climb, rather than attack. A few loonies went off at warp factor stupid and, as expected, came back just as quick. Got over in the first group, job done. It wasn't until the third hill that the pace began to tell. The boys on the front were really getting animated.
Just as I began to drift, Andy and Chris came alongside, shouted their encouragements and disappeared in to the mellee. The first group went off and I ended up in a no-man's land with another rider on a red Trek who was super strong. He was pushing hard in to the block headwind and when I came round him it was only for half the time he'd spent on the front. Don't fancy another two hours of this.
Riders were being shelled out the front group and I could see six or so coming up behind us. Experience told me to wait, he rode on alone. The first rider to make contact with me was matey from behind the second moto. He's lean, strong, tanned and all decked out in matching "Orange" (the phone company not the colour) kit.
Once the junction was made, and we appeared to have a speedy quorum of like-minded individuals, I didn't see him until the end!
How we all did...
For my group of around 20 or so it was a fast and furious to the finish. As this wasn't one of "my" championship events, I decided to give it full gas and just drive it as hard as I could when I could. Have a good workout rather than race tactically. Read slack tactically!
Dianne was having a great time mixing it with the mature men, and with no other women in view thought she'd taken another first place. At the end she was eight minutes up on last year's winning time and was quietly confident of another victory.
Andy and Chris were having a ball, mixing it with the best of them but not in the race winning break, that had long gone. Still they worked hard in their group and rode as preparation for the Roger Walkowiak event to come later in the month.
With one k to go I went to the front, just as Monsieur Orange arrived. Oh, nice to see him again! We were joined by my friend on the Trek, he'd worked hard throughout so I was expecting him to be there in the mix at the end.
With 500 metres to go we traverse a small, but straight line, roundabout and hit the climb to the finish. Two riders come around us but are quickly dispatched and the pace builds to lead-out plus 1 kph. I sit in the wheels (no change there then) and wait for the sprint to start.
Monsieur Orange is leading out, I'm third wheel, there's no one else to be seen. Trekkie, jumps with 150 metres to go and I come off his wheel ready to go around. As you can see in the photo, I'm the only one on the drops, in an aero position and sheltered from the wind. It was a textbook sprint. Job done.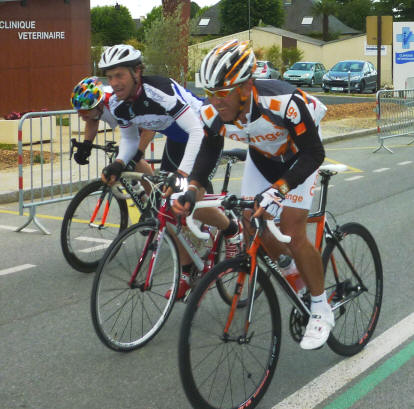 Andy and Chris gave it big licks across the top to the finish and lined out their group on the run in. They both had a similar thought at the bottom of the climb and left everyone else trailing in their wake.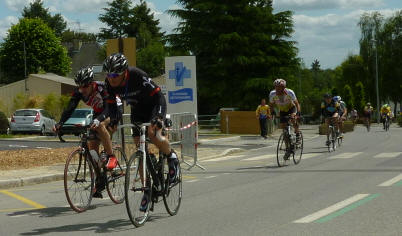 There was only the two of them going for the sprint. Andy (closest) blinked first and took the fight to Chris, who remained seated. When Andy sat down, Chris stood up and it was game over.
The 140k race was won by Pascale Jeuland, a young lady of fine pedigree, she's the World Track Champion don't you know!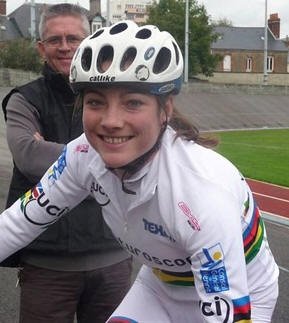 Dianne was a bit peeved to find she'd been well beaten in to second place. It wasn't until we realised that it was Pascale's mum that had pushed her down the order that we felt a little better about it! It's no disgrace getting beaten by the World Champions mum. Unless you're a boxer of course.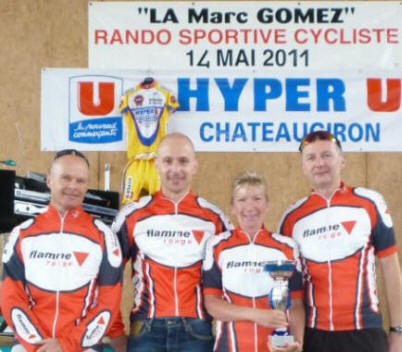 To cheer us up, we took the team prize for the second year running. Dianne, as morale victor, held the trophy.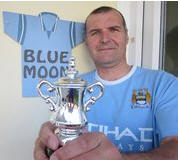 Oh yes, and Mick's team Manchester City (yes there are two teams in Manchester) won, so it was a good day all round. He even has a replica trophy.
The joke about it being that long since they last won anything, the team bus had to stop off at IKEA on the way back from London to buy a cabinet, is totally inappropriate and has no place being repeated outside of these pages.
Until next time...