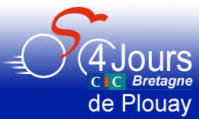 As it's "virtually" on our doorstep, this is my second foray to Brittany for the GP Plouay and their excellent weekend of world cycling.
The sportive is the second part of a four day extravaganza, starting with BMX events on Thursday and culminating with the men's Pro Tour race on Sunday.
In between you have events of all levels and disciplines, even walking events. The whole town is en fete and it's the place to be for August Bank Holiday.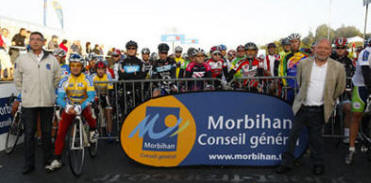 As I was on holiday, I had pre entered the 117k sportive which commenced the same time as the 161k event. The other choices included distances of 61 and 91k. So following a speedy check in to collect my dossard, I headed to a hotel on the outskirts of Lorient.
It's always important to try and get a good night sleep before an event. However, this did not happen. Somehow my wife and I had contracted a bug and by morning I had to put it politely, contracted "gastric distress".This also had a knock on effect of putting me behind schedule in my preparation.
It was touch and go whether I was going to participate or not but I decided to go for it and get to the start line. Well after another trip to the dunny.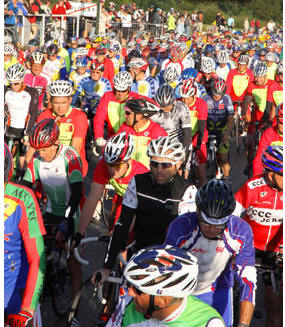 In the larger events it is important to get a position as close to the start line as possible. This way I can try to stay with the leaders for as long as I can and then drift back to find my ideal place in the bunch.
I think this is called making a break, out of the back. Well today, it did not happen for me. There was I 599 out of a 600 odd riders. I tried to move up the starting grid however quite a number of others had the same idea.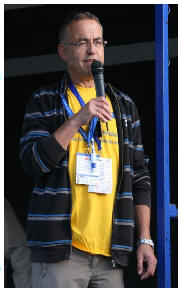 French sportives employ a group of very enthusiastic commentators who are able to rabbit on for hours on end about lord only knows. It does give you sometime to contemplate the race and your tactics, or in my case think about how long I can last before running into a bush.

Too late, they're off. Quick wave to my supporters (wife and son) and I'm off about 5 minutes after the leaders. What ever I do, surely I can improve on my present placing? We are soon out of the small town and into the country side.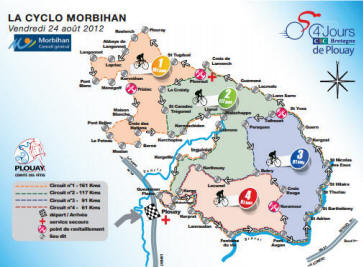 The Chase Is On
The early morning mist lays heavy in the dips of the road and the large clump of starters has already begun to fragment. I know that my only chance is to hammer it at the beginning to see if I can catch up with the main group or at least a faster moving group.
I'm relatively happy in the hills and decide that this is where I can make up some time. Every rise or hill I try to take a few more places and jump to the next group on the road.
The problem is that everyone is more than happy to sit on your wheel and let you pull them to the next group. Well if your determined and want to do as well as you can who minds?
I make my way past a number of smaller groups leapfrogging them on the hills. Am I overdoing it? I realise I am as I swallow the second mouthful of sick.

I finally get working with a group of 15 to 20 other guys who are moving along quite handily. Thinking I can jump to the next group, I attempt another escape however the gap is too far and I sit back and take a breather.
Not for too long however as the mist clears and on the longer stretches of road we can just make out a very large group of riders ahead of us. This has to be our target.
Going to the front I try to cajole my French friends to assist me in this endeavour. About four of us make an effort and drag the group ever so slowly towards the large group in the distance. After a while it's the four of us that break from the group and head off up the road.
As we catch the main group I take a look at my SRM readout. I've been 49 minutes at full-gas. I need a break. This is where I re-learn another valuable life lesson.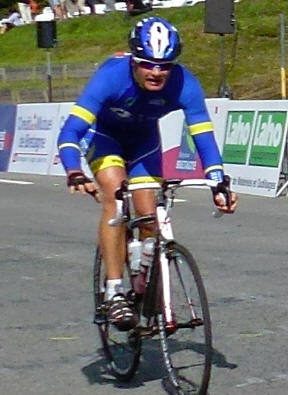 Even though I've been told many, many times before (by you know who!?), when you catch the back of a large group do not sit up and rest. The back of a group is made up of people struggling to keep up with the front and they can't be trusted to hold wheels or chase down gaps.
I sit at the back slowly trying to swallow my lungs and notice that some Johnny Foreigner has let a wheel go and I am now in the following group; again! Should I have gone and tried to make the bridge, maybe. However I was hanging on for dear life in more ways than one. Time to consolidate.
Another Lesson Learnt
Tony's always highlighting the importance of grabbing a good wheel (big strong person) and not letting it go until you want or have to. Now I fully understand why.
At the back of a small group there are some guys who are really good at sucking wheels. They come alongside you, drift across your bars and can push you off a wheel. Before you know it you're in the wind catching flies.

I'd had enough of this and as I was slightly recovered I decided to go to the front and assist in pushing forward. It's actually much more polite at the front. If you're pulling you're weight they give you room and respect your space.
You have to do the work however and know where you are and what you're doing. I felt far more relaxed up front compared with fighting for wheels at the back. You always get a better class of rider at the front of any of the groups that form on the road.
By now the group we were in had caught a number of back markers and had swelled to about thirty riders. Some more committed than others.
My time on the front seemed to get longer as soon as a hill arrived. I took this as an opportunity to dish out some pain. Well maybe not pain but a little discomfort.
It was on one of these hills, the longest that we had come across that a break went away without me. So it would seem that I was not dishing out enough discomfort for some.
The break contained a young lad (who I was not sure if he shaved his legs or if he had not reached puberty to enable the hair to grow) and a Mr Super U.
Having missed the initial break I set off to close the gap. Half way across I started to falter, luckily Mr Lampre (not Lampre but very pink gear) came past and together we made the bridge. There was a certain amount of dithering in our little front group and all too soon the group behind had caught us. Another bloody lesson learnt!
The End is Nigh
As I previously mentioned I've done this sportive before and knew the finish well. I recall a short, sharp slope that catches everyone out and can create a bit of a bottleneck. However this time we approached it from the opposite direction and it caused some slight confusion amongst the peloton!
I was about fourth or fifth wheel coming into the turn at the bottom of the hill when the guy in front of me hit the slope and promptly decided to get off his bike and stop! The havoc and protestations from the group were, as you would imagine!
Somehow I I managed to skirt around him, avoid putting my foot down and together with Mr Super U made an escape. We worked together to keep the hoards at bay. Coming into the last corner I avoided coming to the front and waited for the bend to unwind on to the finishing straight before launching my sprint.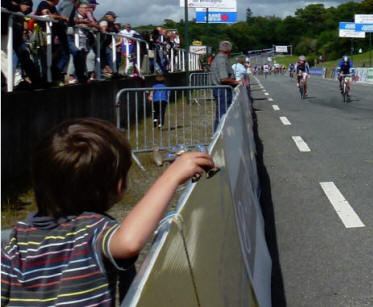 A proud son watching his dad come in
(far right) ahead of a huge chasing pack
Those who know me will know that my sprint is more akin to a lead out than a full-on sprint. But with 500 meters to go, there was I giving it my all.
If I had been a sprinter I would have known that 500 meters is way too far too far to sprint. I was dying a slow lactate induced death and expected to get swamped any second now...
However, I had broken so far clear of Mr Super U, and broken his spirit!, that he decided he was going to sit up and not entertain the folly of my escape. Somehow I hung on and made the line comfortably ahead of him and the chasing pack.
So all in all, despite the "gastric distress" I took the win for "our group". Isn't that what all these sportives are about? Having fun, racing with your mates and your peers and beating them if you can. Job done...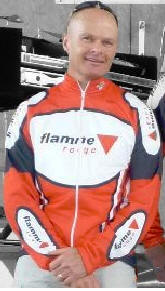 Andrew in less distressed times
winning the team prize at the 2011 Marc Gomez Sportive