Roll out was great - although already separated from team mates Phil Labey and Paul Pirouet, Jason (Stolte) and I managed to stay together for about 20 or so miles before I found myself on my own over the first 4th Category climb.

All good so far and my only worry was mechanicals and punctures as the roadside became dotted with various casualties of the same.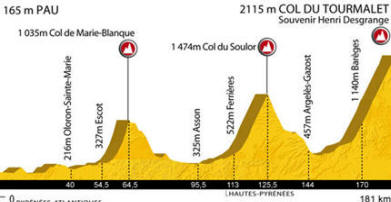 The Marie Blancque ~ 9.5k @ 7.5%

The Marie Blanque was a strange one for me. I entered the slopes last of our group - loads of cyclists all bunched up, going well, tapping out a good tempo but as it hit the steep stuff clearly some folks up ahead either missed gears or got off etc causing a tailback which made everyone dismount - time for a walk.
I don't remember how long (But will say for the record it cost me exactly the amount of time I finished behind Stolte!!!) maybe 10-15 minutes walking, then it opened up and I found a friendly Frenchie at the roadside to push start me as it was still on the steep section at around 10%. So overall the 10km climb was not a problem for me as I rode it in two sections - Stolte said he went too hard and suffered on that one though.
After that it was a couple of km before it was utter carnage. Bodies littered the mountain - saw one guy slip into unconsciousness and start to convulse - two spectators tended to him. Another chap was making a surprisingly large sports bar/gel/drink stomach whisked frittata right next to some poor Frenchies caravan! Rounded a corner to see the road rise relentlessly to two switchbacks stretching to the end of the world (so it seemed) with full sun baked coverage - suffer like a pro Baggers - even if you're cycling at 4.5kmh like a battered amateur.
4km to go sign and a real kick in the tanks as it also announces an average gradient of 9% - for the second time that day real doubts enter my addled mind as to whether I could do this all on the bike. The tougher ramps were causing the blood to pump in the ears and I felt I wasn't too far away from joining the roadside casualties unable to continue - ever onwards though as I know that stopping will likely be the end - and then I'll definitely have to come back next year.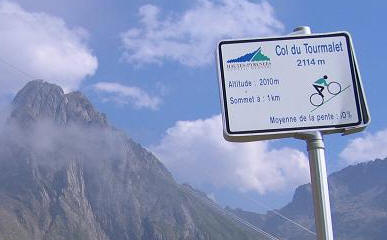 Out of the saddle, but no dancing on the pedals Armstrong style, only to slow slightly and take half pedal turns and stretch the broken back (now onto 5th neurofen plus!). Constant shifting from top of bars to hoods (found that worked well) and forward and backwards in the saddle searching for respite that never came.
Finally, spurred on by some Norwegian loons blasting AC/DC's Back in Black album, its the final push. Then a good smattering of English supporters are in full voice and I spot the final turns which is great, but also notice it looks like about 13% up the last switchback - surely the mountain isn't going to submit me to the ignominy of walking the final 500 metres as I fear the imminent onset of total leg cramp.
It doesn't come and I finally cross the line after 2 hours and 19 minutes of climbing some 12 miles with a guttural roar which is met by equal shouts from the hundreds at the top.
I pull up next to two lads from Jersey Caesarean Cycle Club and beg some drink off them (bottle empty again) then I sit down and have a little cry.
What a day. We trained pretty hard but I had no idea it would be that tough - but that it was has made it all the sweeter to complete it. I swore to myself several times that day that if I made it it would be my last - but never say never!!!! What's this Marmotte caper then!!!!!!
10 hours 40 minutes over 114 miles and some 4,000 metres going up.....and up.....and up.
Finally a massive thanks to my training buddies and fellow etapists above (all in between 9 and 10 hours) and also Spencer and Al - and last but most, Tony Williams - the man with the Plan.