Performance Programme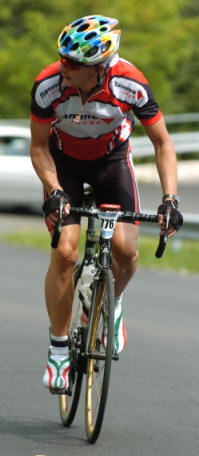 Being a racing cyclist isn't something we do, it's something we are. We are racing cyclists; professionals in everything but name.
We may be weekend warriors and amateur athletes, but that doesn't mean we have to be amateur in our outlook, our lifestyle and our sporting preparation.
To support you in meeting your training aims and competition objectives, we are making available a complete set of professional services, tools and facilities that you can mix and match to suit your wants, your needs, and your available budget.
We're acutely aware of the financial, time and equipment constraints placed on the family man, the weekend warrior and the everyday riders who are just like us. More ambition than the time available to realise it.
We are here for the riders who are passionate for, committed to, and intoxicated by this most fantastic of sports, but can't justify the costs of a full-blown, £100 per month on-line coach.
Previously there was little alternative, other than buying a sheep-dip "train like Lance" book. But we believe we can offer a cost-effective, value-based solution, that could best meets your needs.
flamme rouge Athlete's Services
▼

Performance Coaching
It now matters not where you live in the world. If you want a training programme dedicated to helping you achieve your sporting objectives, just decide which of these programme options best meets your needs and you're almost there.


▼

Performance Testing
Here we have our standalone performance evaluations. Take a wVO2max, Ramp or Lactate Test from as little as £20.

All we need is you, your bike and your best set of legs.


▼

Bike Fitting Services
Our standalone service for road or TT bikes. Dual camera's, laser beams and all sorts of alchemy for just £20 a fit.

Don't be told what you look like, see for yourself on our plasma TV and measure the speed and comfort changes as they happen.


▼

Performance Analysis Services
All the tools and analysis materials to help you focus on the things that matter. Become a fitter, faster, stronger rider for the least amount of financial and energy expenditure.

Most are free of charge, just send me a power file of your ride or "home test" and we'll do the rest.
I truly believe (because I've looked) that you won't find a better value for money performance improvement proposition than our flamme rouge Performance Programme. So go on, why not sponsor yourself for the winter or just for a specific event?

If you're spending a couple of grand on your bike, hundreds of pounds getting to your events, and hours without number riding the road and the turbo, then why not splash out just a little on your own personal development. Something that gives a cast-iron guarantee of performance improvement.

Try spending £30 on a stem or seat and see how much faster you go!

Check out the range of services we offer, which are directed purely at the dedicated, non-professional, weekend warrior. If you like what you see, no matter where you are, please get in touch. If you're unsure, send us an email to discuss it. What's the worst that can happen?